Associazione nazionale città del tartufo presents Castelbuono in Sicilia
Each Italian territory has its own truffle terroir that must be valued and studied. This is the case of Castelbuono in the province of Palermo, where there is no shortage of varieties of truffles: the black summer truffle (Tuber aestivum), the black winter truffle (Tuber brumale), the ordinary black truffle (Tuber mesentericum); and the 'Bianchetto' (Tuber borchii) is widespread among white truffles.
Let's get to know Castelbuono better through the words of Antonella Brancadoro, director of the National Association of the City of Truffles.
Inhabited since the Neolithic, the Castelbuono valley has been appreciated over the centuries by Greeks, Romans, Arabs and Byzantines, for the goodness of its climate and spring waters which are also crucial for the production of excellent black truffles of all seasonal botanical varieties. In 1454 Giovanni I di Ventimiglia elevated the castle to the permanent seat of the marquisate, transferring the prestigious relic of Sant'Anna from Geraci to Castelbuono. Since then the castle has been enriched more and more, hosting and financing prestigious artists from different cultures, becoming one of the most beautiful and prestigious medieval and Renaissance eddies in western Sicily. From Serpotta to Torquato Tasso, there are many artists and writers who for centuries have followed one another at the court of the Ventimiglias, making Castelbuono a center of excellence both from an artistic and literary point of view. Every corner, every stone, every street are the reason for tales, stories, memories and pride that have distant roots.
In keeping with the good tradition of the Ventimiglia family, Castelbuono is the Sicilian town that organizes several art, music, sport and culture events throughout the year. Among the best known: Castelbuono is a fairy tale, a theatrical review for children; the Castebuono International Running Giro, which is the oldest road race in Europe; the Sports Journalism Award; the Solemn Procession in honor of the Patron Saint Anna; shows of the ProgettoTeatri di Pietra circuit; Ypsigrock, festival; the Enzo La Grua youth award linked to the national photography competition Città di Castelbuono; the Principality party, historical procession and commemoration of the discovery of the skull of Saint Anna; Castelbuono Jazz Festival, jazz music review.
Tourism in Castelbuono has become a driving sector of the local economy which has also benefited from the well-deserved fame linked to the presence of the Fiasconaro pastry shop which "sent" the Sicilian panettone to the moon.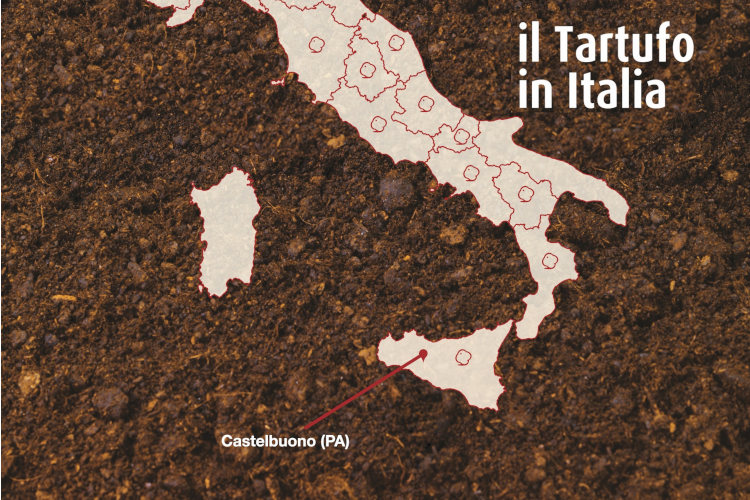 Truffle festivals that are celebrated every year
From 2 to 4 August during the Divino Festival food and wine event
From 10 to 20 October included within the Funghi festival

Truffle dishes typical of the area
Fettuccine with truffle
Sliced ​​veal with truffle
Rabbit with truffles
Bruschetta with quail eggs and Sicilian black truffle
Risotto with black truffle and pistachio