Meeting at the Ministry. The Truffle Supply Chain and Ceremonial want to fascinate the guest
The Undersecretary for Agricultural Policies with responsibility for truffles Gian Marco Centinaio received Olga Urbani, owner of the historic Urbani Tartufi, the most renowned and perceived truffle brand in the world, at the Ministry, and Giuseppe Cristini truffle journalist and director of the official magazine of the Italian truffle Truffle Academy in the World.
There are two points on the agenda: the first is the truffle supply chain which, through truffle farming, can guarantee the future of the presence of the Italian truffle for the next decades, (especially in marginal and abandoned lands) such as to embellish the morphological beauty of the territory with certified and mycorrhized oak, hazelnut, downy and hornbeam seedlings, as well as creating wealth and employment through the production of precious nuggets that develop economy.
For his part, Giuseppe Cristini expressed to the Undersecretary the importance of restarting catering through truffles all year round, from all regions and in all seasons, but with a different attitude; giving birth to the ceremonial of the truffle at the table, able to fascinate the guest, the wealthy foreign tourist and the gourmet, curious to know the Italian gestures and dexterity that must be an expression of the professionalism of the restaurateurs.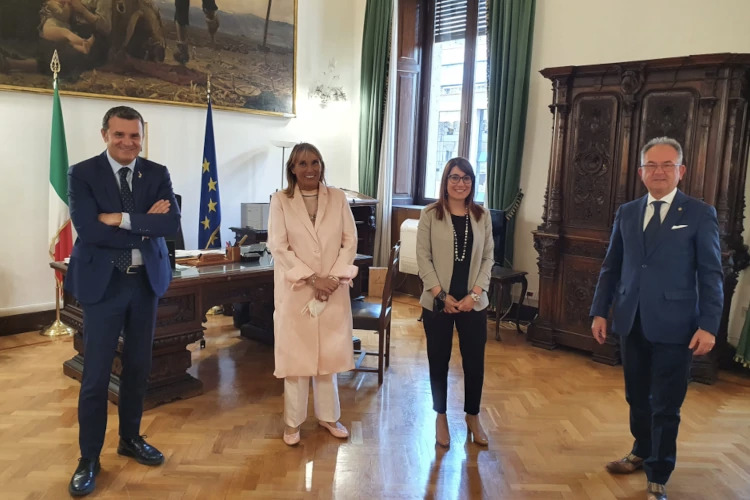 Out of respect for our guest and prestige, the truffle must always be treated in white gloves, with grated and sliced ​​truffles that recall the flamboyant moment that becomes emotional.
His Majesty the truffle is a great expression of the Italian land that makes the tricolor cuisine fascinating, but it cannot be missing, the style of service and the regal bearing when dealing with a preciousness such as the truffle, which masterfully gives to the guest an Italian dream that tourists expect to discover by choosing Italy.
Finally at the Ministry a personality with strong sensitivity and passion towards the world of truffles and all its expectations.
Hundreds have indicated in information, communication and pure journalism related to truffles, the future of education in the use and enhancement and promotion of truffles throughout the year through knowledge of all those edible species that are natural biodiversity.
Finally, each dish with truffles, added the Undersecretary, diversifying from fish to meat, from legumes to cheeses, from pastas to desserts, represents the richness of each individual territory, which through each recipe always knows how to strike the mind and heart and certainly finally also the palate!
Tagged:
truffle